Our recruitment for Round 2 of SEEDS2TREES is well on its way. So far, 69 individuals/households, 12 community organisations, and 6 school have confirmed their participation in our next round of growing trees from seeds.
They join over 100 community tree growers from Round 1, who started, last November, to grow the British Native tree seeds that we supplied, and now are seeing our future woodlands growing in their own outdoor space. When we distributed the seeds last year for ROUND 1, our youngest SEEDS2TREES hero, recorded, was just 3 years old, and our eldest, recorded, was 83 years!  SEEEDS2TREES is proving to be a project for all ages, abilities, and experiences. They are working to grow Oak, Hazel, Birch and Alder.
Together we are "growing the change we need". SEEDS2TREES is an amazing project that give us the tools and the support to grow the trees we need to enable all forms of life on our planet to survive.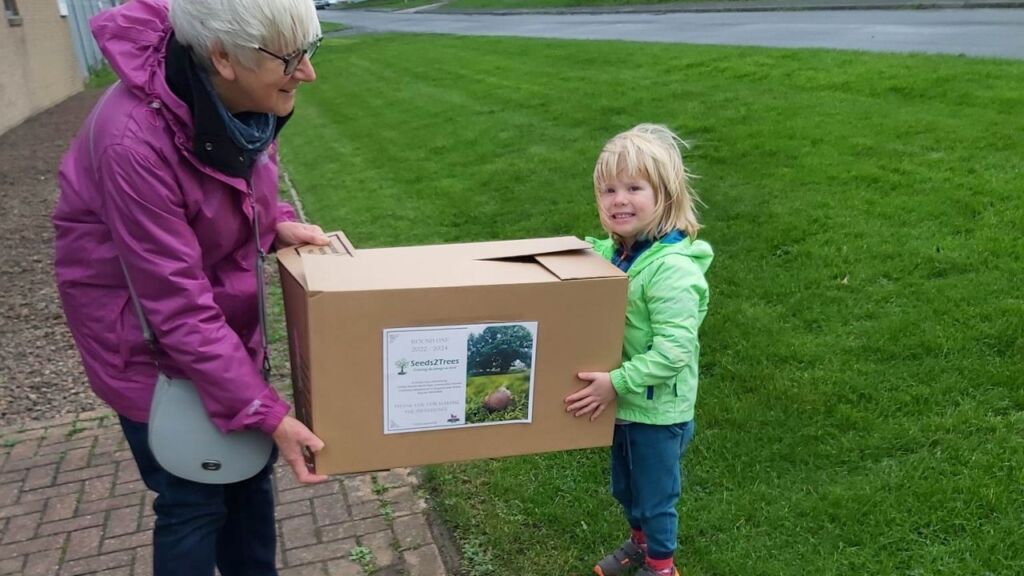 A community project for all ages
We have room for more community tree growers in ROUND 2
You will be amazed how little space you need?
Our recruitment for more community tree growers for Round 2 continues. Have you considered joining this project yet? Would you like to sign your community organisation, or school up? Or how about taking on the magical venture yourself?
SEEDS2TREES is designed to give people living in rural and urban locations to help create, care for, and connect with woodlands. You may have access to a large garden area, or just a small back yard. No matter the size, you can grow trees in your outdoor space.
SEEDS2TREES – It is FREE for you to take part
While our fundraising efforts continue, SEEDS2TREES is possible because of the generous donations by individual donors, trusts, and businesses, and as a result of the tremendous support from The Aviva Community Foundation, BA Better World Community Fund, and Save Our Wild Isles.
For more information, visit our SEEDS2TREES page, and complete the on-line form to express your interest.
We need to know our final numbers by mid October so we can start the plans for the distribution of seed. So hurry to our SEEDS2TREES page to express your interest.
The photos below provides a glimpse into the journey of our ROUND 1 so far…