Northumberland, the rest of the UK and further afield, awoke on Thursday morning to the shocking news that the famous Sycamore Gap tree had been felled. As the morning wore on, it became clear that this was an act of wanton destruction – vandalism against nature, but also against humanity.
This tree had amazingly survived maybe a couple of hundred years on the Roman Wall – beating grazing animals, aggressive south westerlies, and other harsh weather that batters Hadrian's Wall at times. It stood proudly between two peaks of Whin Sill rock – filling the gap – and now there is just a gap and a tree stump.
Emotions were raw that day – I live exactly on the Wall, eleven miles east and after realising it was not a hoax, I felt a great sadness, which then fluctuated between anger, incredulity and back to sadness – powerful emotions. People I spoke to, especially locals were also going through a wide range of emotions. It may seem strange for such depth of feelings about a tree, but it was about a lot more than a tree. People have asked why we are not as emotional about the rainforest destruction, or the destruction of ancient woodland to create HS2 (and many of us are angry about these things also) – but the outpouring on social media was very strong about this particular act of vandalism. So what makes this more than about just a tree?
The Robin Hood tree and the Sycamore Gap location were iconic partners. As you drove along the Military Road the view of the tree seemed to suggest that everything was OK with the world, it was a true "nature connection" at various levels. Its silhouette motivated photographers, artists and other craftspeople to celebrate it in so many media – images that have travelled the world, and making it the Woodland Trust's Tree of the Year in 2016.
Its iconic status brought people to it for so many forms of celebration – birthdays, engagements, children's first steps, even the spreading of ashes of loved ones. That is why it was so shocking for so many people, near and far – because the tree held memories for them. It also stood as a sentinel for all who walked either Hadrian's Wall trail, or the Pennine Way – as both pass by exactly where it stood – just east of Milecastle 39.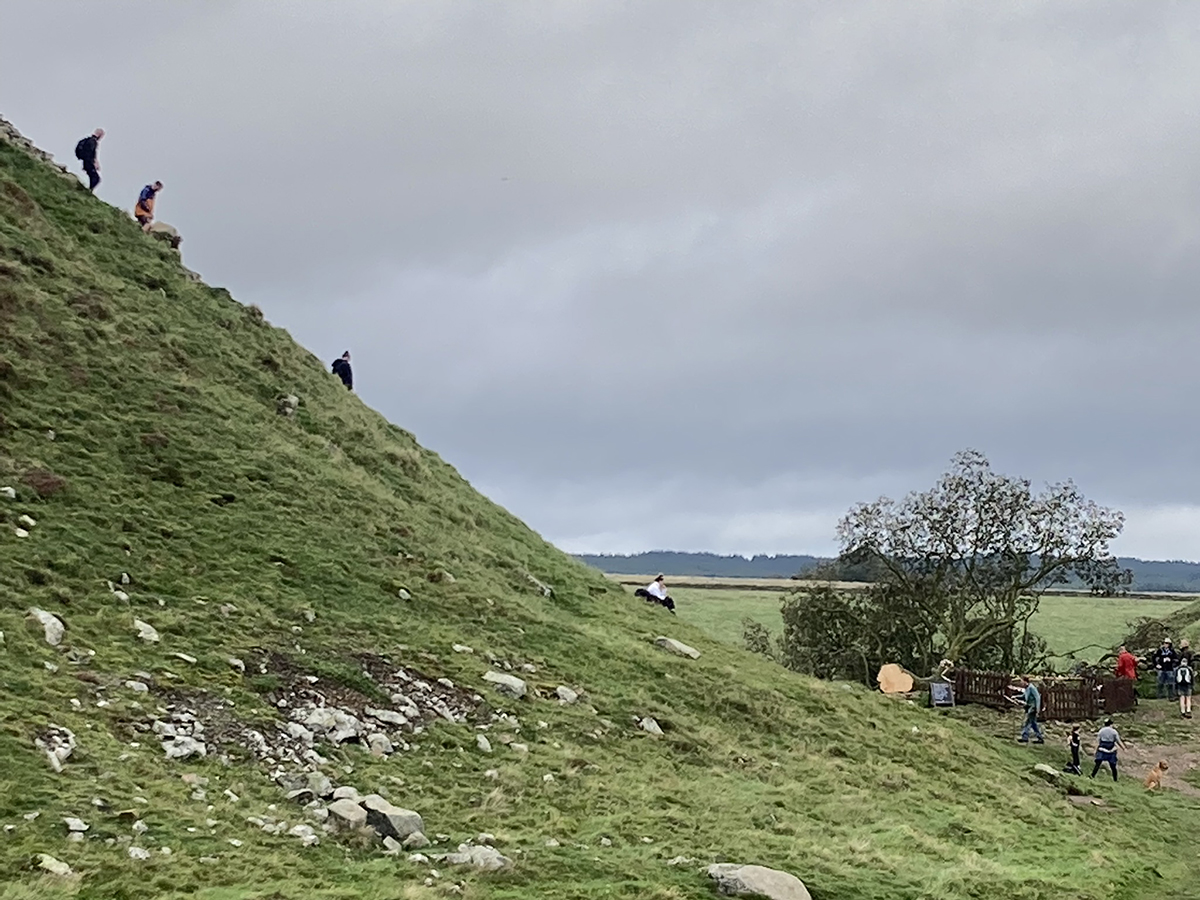 A unity in the emotional challenges
I was privileged to have the opportunity to visit three days after the brutal felling – both the site of the tree and the Northumberland National Park visitor centre "The Sill". There was a steady trickle of people wandering over to the site – mainly in silence. There was a general peacefulness around the site (except when the jackdaws did a fly past) – but then people were wanting to talk, to share their stories of Sycamore Gap with complete strangers – there felt a unity in the emotional challenges, in the inability to make sense of it all.
A little lad, Daniel from Sunderland, was there with his family. He just kept saying – 'it should be standing up, it's tipped over, that is sad'. I chatted briefly to him about the magic of growing trees from seeds – and he asked 'how do you plant them?' I talked about using a spade and cutting a hole in the earth, and then asked if he would plant trees – and he gave me a thumbs up – and gave another one as he passed by later – our planet needs mini-environmentalists for the future.
A French photographer had arrived as part of a planned tour around parts of UK, and he was up above the tree, seeing it for the first time, and had not heard what had happened. It was clearly very confusing for him and troubling; he wondered if it had blown down – he could not believe that someone would cut down a tree like that for no reason.
And reasons and explanations is what we strive for – to settle it in our heads and hearts, to understand why someone would do this! This is all in the hands of the authorities now – and maybe we will get answers in time (yep, plenty of rumours hurtling round social media!).
Vandalism to half of the tree – its roots cling to each other
For now however, I feel it is good to remember that the vandalism has been committed to half of the tree – the iconic bit above ground. Below the ground are all the roots that have clung to each other, to rocks and soil, and these have fed the tree its nutrients over the years of its life. The tree is still very much alive, and as a Sycamore it could well throw out new growth and create a new crown and canopy over the years.
It will not look the same, and it certainly will not be instant, but that is the way of forestry – we harvest what others planted and tended, and we plant and tend, what others will enjoy and may harvest. This tree was never due to be a harvest in terms of timber – but a provider of joy and appreciation, a connection with nature for so many people.
People will be gathering to decide what to do now that the tree has been felled to a stump and provided an accidental harvest – there will be so many thoughts and discussions. For me, it would be great to see the remaining roots system and stump treated as a coppice tree – letting new growth spring from it and after a few years decide how many trunks to use to create a new Sycamore Gap tree – so in maybe 100, maybe 200 years it will stand proud in that gap, as an icon, once again.
The roots have spent so many years, entwined amongst the rocks, trading sugars with nutrients from the creatures in the soil, that the soil food web is ready to feed nutrients into any new growth from the stump. And as for the accidental harvest – it would be wonderful to see the timber celebrated from the tree. I am sure the main trunk will be made into something amazing; even the small branches could be split and given out for people to carve wooden spoons, turn bowls, etc.
Phoenix out of the ashes
So for me, at this time that has contained both sorrow and anger, and as this amazing tree may arise again as a "phoenix out of the ashes", let us remember this tree was an icon, but also all around the world trees are being cut down for the wrong reasons. So, as when planting a tree, we look at "right, tree, right place, right reason" – so when harvesting timber we should be looking at "right tree, right reason, right use".
Let us work through our emotions of sorrow and anger at a local, but hugely significant incident, but  let's also raise our voices against the horror of mass deforestation across the globe – for soya, for palm oil, for biomass fuel, etc, all for economic growth, and cheap food production and cheap energy – on a planet of finite resources and beautiful trees.
Mark Shipperlee
October 2023